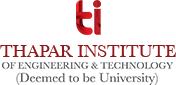 DBT Sponsored Project "Isolation and Characterization of Xanthine oxidase inhibitors from endophytic fungi for treatment of Hyperuricemia and Gout"
Position:
JUNIOR RESEARCH FELLOW (JRF)
No. of Positions: ONE (01)
Qualification: M.Sc. Biotechnology/M.Sc. Microbiology/ M.Sc. Biochemistry/M.Sc. Life Sciences/ having a valid GATE/NET/DBT-BET/ GPAT/ICMR-JRF/ICAR-AICE SCORE as per DST OM No. A.SR/S9/Z-09/2012 dated on 21 Oct 2014
Desirable Qualifications: Desirable experience in working with fungal endophytes and assaying extracellular secondary metabolites produced by fungi for their bioactivity.
Stipend: Rs. 25000/- per month + HRA
Duration: THREE (03) YEARS (renewable every year & co-terminus with the project)
1. Interested candidates should submit their curriculum vitae (CV), preferably by email indicating research experience and interests, a valid score of GATE/NET/DBT-BET/ GPAT/ICMR-JRF/ICAR-AICE SCORE, with names of two referees by 27th January 2016 to the undersigned.

2. Interested candidates are advised to report to the Office of the HOD, Department of Biotechnology, Thapar University, Patiala for interview on 01 February 2016 (Monday) at 3.30 pm.

3. No separate interview or call letters would be dispatched. No TA/DA would be given for attending the interview
Dr. Sanjai Saxena
Professor & Principal Investigator
Department of Biotechnology
THAPAR UNIVERSITY, Thapar Technology Campus
Patiala 147004, Punjab

Email: ssaxena@thapar.edu; sanjaibiotech@yahoo.com
Mobile: +919888219815